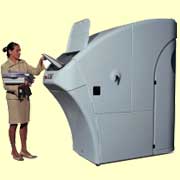 Kobra is a recognized leader
in the shredder industry!
With 5 levels of security, 8 HP motor, vacuum system,
insulated chamber, air flow system and rotating blades,
the Kobra Cyclone shreds paper, cardboard boxes , cd's,
credit cards, cans and bottles at an amazing speed!
Kobra Cyclone Shredder
List Price: $27,900.00
Our Price: $21,320.00
** Includes 12 Month Warranty **

Add To Cart
Supplies & Accessories
... or call (800) 553-0101 and talk to a Human!